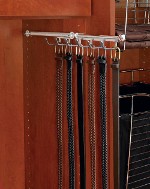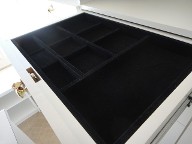 A's Kustom Closets, based in La Puente, California, Lists Six Essential Accessories to Help Organize Closets
During these economic hard times when most homeowners can't afford to buy a bigger housewith larger closets, doesn't it make more sense to utilize space more efficiently? A single hanging rod and shelf just doesn't do the trick. Properly designed and installed closet systems will double the storage area of any closet. That's why closet organizers are so essential.
With that in mind, many homeowners are hiring a professional closet designer who is able to envision the best storage options to assess their situation and help reconfigure their closets. However, before choosing a professional, a homeowner should give careful thought to how they want to use the space and consider all their options. Adrian Anaya, owner of A's Kustom Closets, suggests homeowners think about the following accessories:
* Tilted shoe shelves not only get shoes off the floor where a homeowner can find them easily, but wil reduce wear and tear and extend the life of shoes.
* Drawer and shelf dividers make it easy to keep everything neat and organized. Shelf dividers strategically located to maximize space are perfect for storing folded clothes, purses, and other items that have a tendency to fall over. Don't forget lined jewelry drawer dividers which keep jewelry organized and protected and help valuables last longer. Men can also use these dividers to hold glasses, wallets, cufflinks, watches, and other small items.
* Pull-out racks can be used for ties, belts, and scarves to keep them neat, untangled, organized, and easy to sort through when matching an outfit.
* A valet rod - a rod that pulls out to hang up dry cleaning, display an outfit for later use, hang a robe, or hold a garment bag while packing for a trip - is not a well-known accessory but a fun one to have. Once it's installed, a homeowner won't know how they lived without it.
* Sliding baskets and bins can be used multiple ways, including storing children's toys or bulkier seasonal items.